What are OKRs in business?
All businesses need a concrete understanding of where they're headed to drive purposeful action and win in the future of work. Whether it's startups powering through the initial stages of development, SMBs working to capture market share, or enterprises looking to innovate, companies must commit to goals to attain their desired outcomes.
Objectives and key results (OKRs) are a great way for organizations to achieve their goals. OKRs in business can be a powerful goal-setting framework used to set ambitious, collaborative, and time-bound goals. This framework uses two components to set and track goals: objectives and key results. Objectives refer to short, qualitative descriptions of what a business wants to achieve. Each objective is accompanied by 3-5 metric-driven key results that are used to track progress toward each objective.
Using measurable and transparent progress indicators, collaborative goal-setting, and a flexible approach to goal fulfillment, OKRs in businenss can help address customer needs and streamline procedures.
To show you the power of OKRs in business, this article covers the benefits of using OKRs for startups, small and medium-sized businesses (SMBs), and enterprises. Additionally, it covers examples of OKRs for each type of organization.
---
Learn the 7 steps to effective goal setting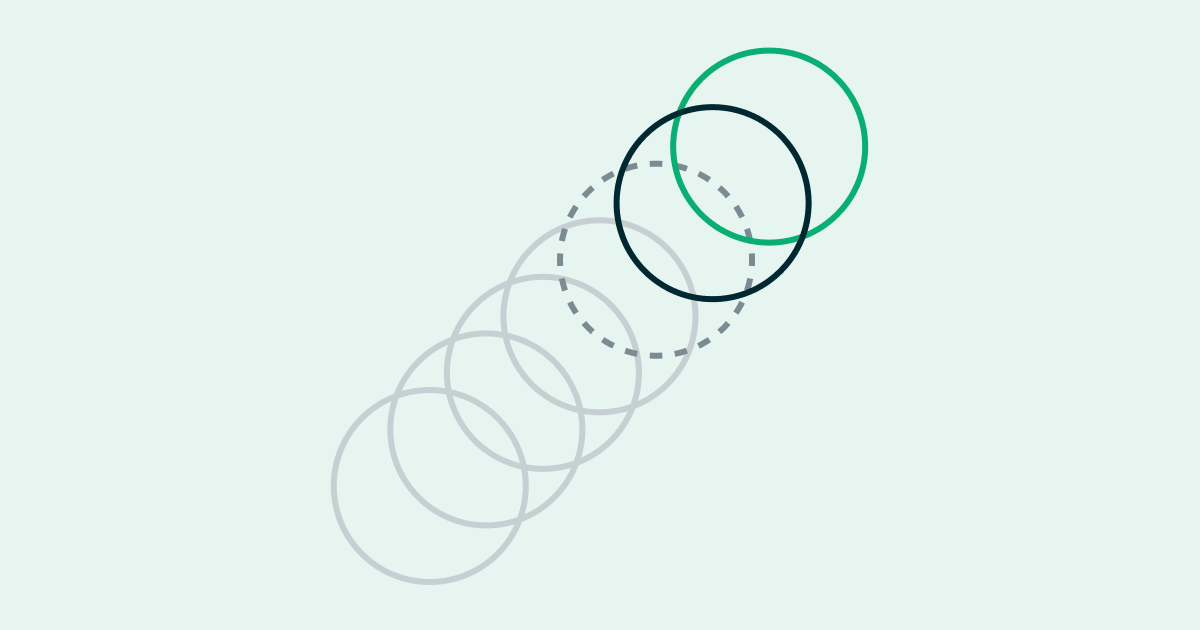 ---
5 benefits of using OKRs in business
OKRs in business can be valuable tools regardless of size or industry, catering to needs across the business lifecycle. Most notably, startups, SMBs, and enterprises can use OKRs in business to:
Strengthen alignment
Foster a culture of innovation
Boost productivity and engagement
Enhance adaptive capabilities
Optimize resource allocation and management
1. Strengthen alignment
Leveraging OKRs in business can improve alignment and resource coordination. OKR goals can create tight linkages between employees, operations, and processes, aligning them toward one mission. This alignment clarifies the business's direction and simplifies operations, with employees focusing on a common goal without requiring complex communication systems.
2. Foster a culture of innovation
OKRs' ambitious nature can cement creativity and trial and error into the core of company operations. As OKRs in business involve stretch goals that aren't — or at least shouldn't be — tied to compensation, they encourage less risk aversion and more experimentation. This makes OKRs powerful drivers of innovation and lateral thinking.
3. Boost productivity and engagement
Using OKRs in business can improve engagement and productivity in businesses of all sizes. Through collaborative goal-setting, transparent progress updates, and clear ownership of goals, employees are kept motivated, accountable, and productive throughout the OKR cycle.
4. Enhance adaptive capabilities
The OKR framework is a powerhouse of agility and flexibility, encouraging companies to deploy resources in response to shifts in the market environment. As OKRs in business can be continuously updated throughout the OKR cycle — adjustable to a company's OKR cadence — they help companies seamlessly pivot strategies as they make sustainable progress toward long-term goals.
5. Optimize resource allocation and management
Utilizing OKRs in business operations encourages organizations to funnel resources toward what matters most. For example, companies can use their annual and quarterly OKR progress to assess the effectiveness of their resource allocation. Moreover, as stretch goals require businesses to make the most of what they have, OKRs help businesses maximize the utility and capability of their resources.
How OKRs help startups
Startups may encounter several hurdles when working to streamline their processes. Equipped with OKRs in business operations, startups can alleviate the impact of these hurdles and sustain superior performance.
Firstly, as startups solidify their communication plan, employees may miscommunicate or work towards disparate goals. To overcome this, startups can establish a companywide OKR (i.e., a North Star goal) to guide employees' efforts and nourish steady, focused growth.
OKRs can also help startups position themselves against big competitors. As OKR stretch goals encourage innovative thinking — simultaneously facilitating employee engagement and productivity — the use of OKRs in business can improve startups' offerings and propel them to new heights of achievement.
Moreover, startups can use OKRs to stay adaptable. As startups lack deep-rooted internal processes and require experimental approaches to business, they can rely on OKRs to remain flexible in dynamic environments.
This flexibility is crucial for startups operating with limited resources. As these companies must strategically leverage resources to ensure sustainable operations and superior outcomes, they need a clear understanding of where their resources are best deployed. With OKRs' quantitative and trackable nature, startups can assess the effectiveness of their resource allocation, overcome periods of volatility, and thrive amidst uncertainty.
How OKRs help small and medium businesses
OKRs can also support SMBs, helping them overcome the challenges of scaling operations.
As SMBs grow, they may find it challenging to scale internal networks uniformly. This can cause disruptions when transmitting information, know-how, and experience. As OKRs facilitate alignment at every level of the organization, SMBs can use them to calibrate operations and avoid operational barriers.
Additionally, as employees in SMBs must wear many hats to minimize the lag between resource and company growth, SMBs need to focus on employee engagement. With OKRs promoting the ownership of ambitious goals, employees are encouraged to stay motivated and productive.
Employee engagement is also essential for SMBs switching focus from survival to growth. This change entails a forward-thinking approach to operations, often missing in SMBs due to their previous focus on survival and risk aversion. Using OKRs in business, SMBs can integrate innovation and adaptability into their operations, leveraging limited resources to suit ever-changing market needs.
---
See how OKRs support small and medium businesses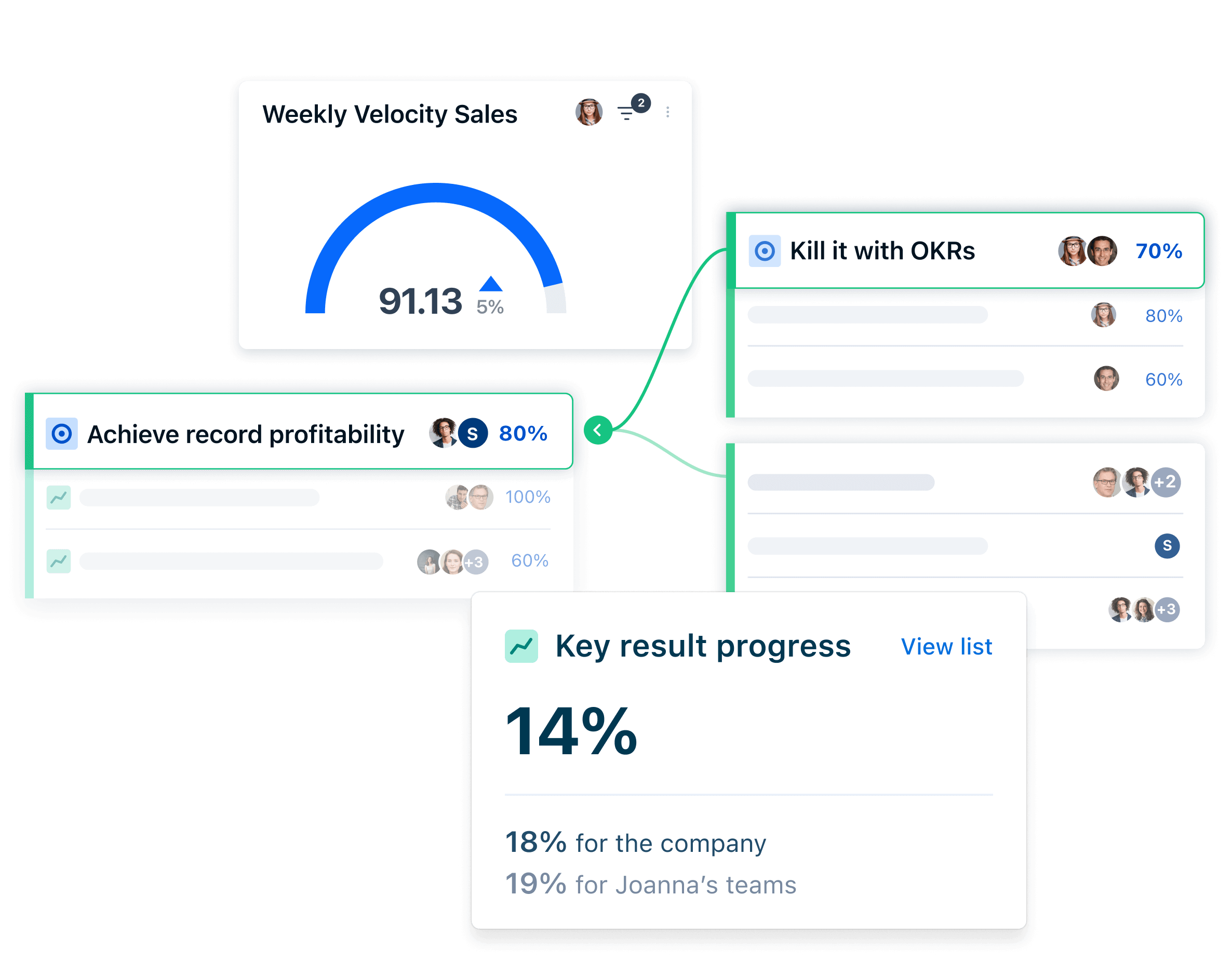 ---
How OKRs help enterprises
Due to their sheer size, enterprises face different challenges than startups and SMBs. Yet, OKRs can still be an optimal solution for these businesses, as this framework's flexibility can be incredibly beneficial for large organizations as well.
Misalignment and miscommunication are common issues faced by enterprises with extensive, hybrid teams. As these challenges can cause duplicate, redundant, and inconsistent work, using OKRs in business can assure goal alignment and visibility around resource use.
Alignment and visibility are essential for large organizations with legacy hierarchies, cascaded decision-making, and silos. Employees in such businesses may fail to see the positive contributions of their work, causing disengagement and feelings of disconnect. As OKRs encourage accountability around aspirational goals, they can be a viable solution for large businesses, facilitating employee engagement, productivity, and retention.
Moreover, legacy organizations' existing success can make them less keen on innovating and more reliant on tried-and-tested methods. This can keep them dormant and may result in a loss of market share as existing market unpredictabilities require businesses to mold to external changes. Using OKRs as a powerhouse for innovation and agility ensures enterprises avoid stagnation, push growth, and whether the ebbs and flows of the market environment.
---
See how OKRs can support enterprise businesses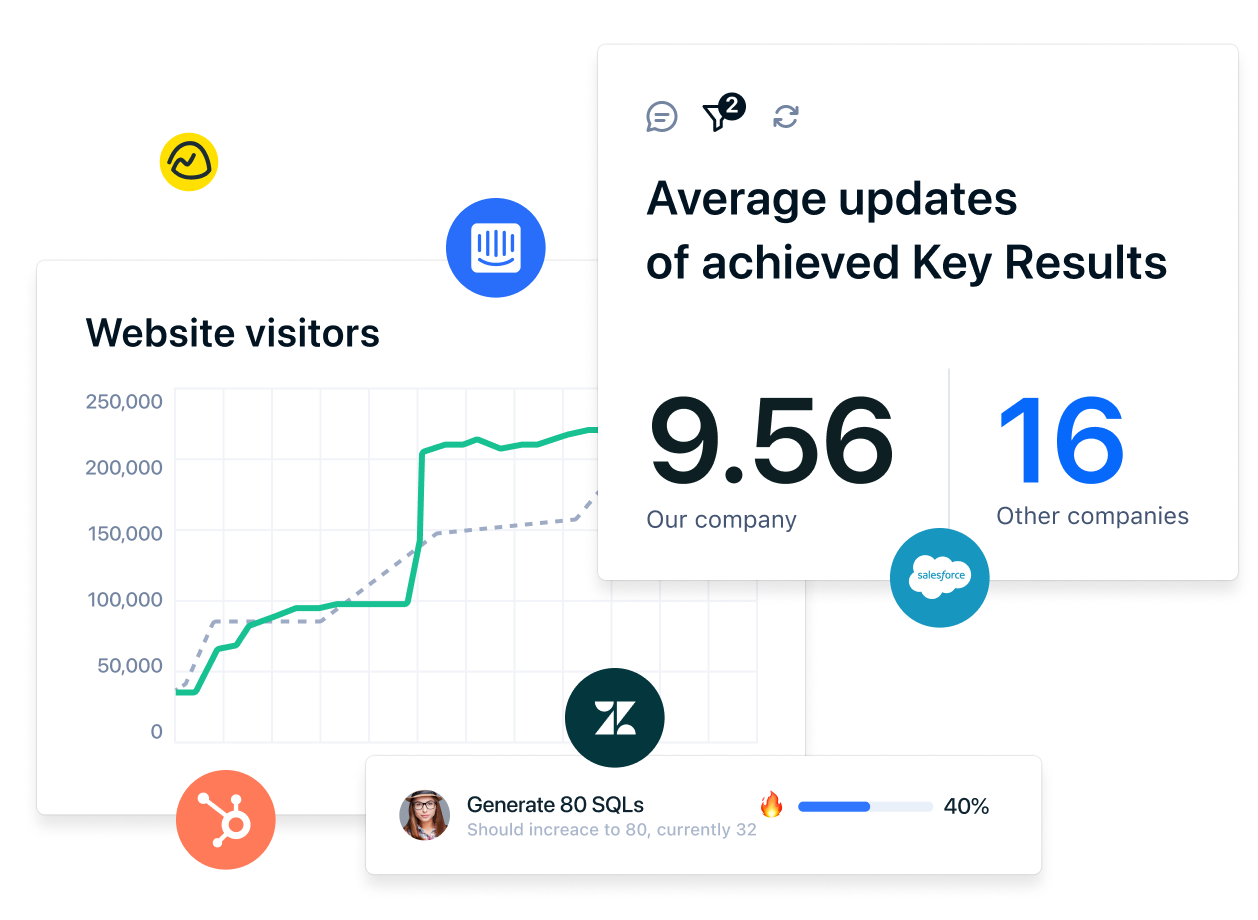 ---
OKR examples for businesses of different sizes
OKRs for startups
Objective: Boost brand awareness
Key result 1: Increase share of voice on social media to 16%
Key result 2: Increase referral traffic by 70%
Key result 3: Increase organic web traffic by 25%
---
Objective: Be on track to secure seed funding
Key result 1: Increase customer base to 500
Key result 2: Increase activation rate to 25%
Key result 3: Increase NPS from 31 to 50
---
Objective: Improve product-market fit
Key result 1: Increase signup rate by 5%
Key result 2: Increase conversion rate by 10%
Key result 3: Reduce time to value by 2 minutes
Key result 4: Increase user-level cohort retention to 35%
---
OKRs for SMBs
Objective: Solidify diversity, equity, and inclusion (DEI) into the company
Key result 1: 100% participation rate in employee DE&I training modules
Key result 2: Increase the percentage of diverse employees from 45% to 60%
Key result 3: Improve our current policy on DE&I as part of our internal code of conduct
---
Objective: Skyrocket revenue to an all-new high
Key result 1: Hit quarterly revenue of $5'000'000
Key result 2: Increase conversion rates from SQL to opportunity to 13%
Key result 3: Upsell to 25% of existing customers
Key result 4: Reduce churn rate by 2.5%
---
Objective: Improve customer satisfaction
Key result 1: Boost Net Promoter Score from 5.8 to 7
Key result 2: Decrease the number of complaints from 12 to 8
Key result 3: Gain feedback from 50 lapsed customers
---
OKRs for enterprises
Objective: Accelerate our global growth
Key result 1: Hire 50 new personnel at our EMEA offices
Key result 2: Achieve $500M in total global sales
Key result 3: Produce localized marketing materials in our top 6 geographical markets
---
Objective: Speak the language of our prospects
Key result 1: Hire a country manager for each of our top 6 geographical markets
Key result 2: Release localized website in our top 6 geographical markets
Key result 3: Produce 2 new ad creatives for each of our top 6 geographical markets
---
Objective: Crown the customer
Key result 1: Gather feedback from 10 customers each month
Key result 2: Reduce customer support ticket response times to 2 hours
Key result 3: Increase customer retention to 90%
---
Objective: Supercharge our company culture
Key result 1: Execute a company fitness challenge with 85% participation
Key result 2: Produce a summary of results from employee engagement surveys
Key result 3: Achieve 100% positive feedback on this year's holiday party
Using OKRs in your business
Businesses must be proactive about setting and accomplishing goals at every stage of their lifecycle. Startups, SMBs, and enterprises can use OKRs in business to facilitate alignment, spearhead innovation, optimize resource allocation, boost performance, and improve flexibility.
Making OKRs indispensable to your business helps you maintain a competitive edge while continuously exceeding performance expectations. Using the right strategy execution platform for your business, you can plan, align, execute, assess, and adapt your OKRs to ongoing growth and success. See how you can use Quantive to create a tailored strategy execution here.
---
Quantive is your bridge between strategy and execution. Founded on the objectives and key results (OKR) methodology, our Strategy Execution Platform is where businesses plan successful strategy, focus and align teams to it, and stay on the leading edge of progress.
As your company looks to achieve the best possible results, you need a modern approach to run your business and change your business. The Modern Operating Model brings strategy, teams, and data together to help make decisions faster, optimize operations, and drive better business outcomes.
Whether you're a large enterprise facing competitive disruption or a small business leading the innovative charge, Quantive helps get you where you want to go.
Ready to achieve the best possible? Start using Quantive for free.