While it's impossible to predict future economic situations accurately, talks of a global recession have instilled a feeling of uncertainty in business leaders worldwide. With tough decision-making ahead, leaders must anticipate shifting market situations to prepare their businesses for the unknown.
This requires a strategic plan to evaluate how your company functions by focusing on your strategy, operations, and overall alignment in order to fully recession-proof your business. By creating a long-term, integrative approach to business agility, you can help your business be more resilient, better weather the effects of ever-fluctuating markets, and position it for success during economic recovery.
This guide will walk you through an all-encompassing approach to recession-proofing your business in 2023.
---
Don't have time to read the full article now? Download the pdf and save for later.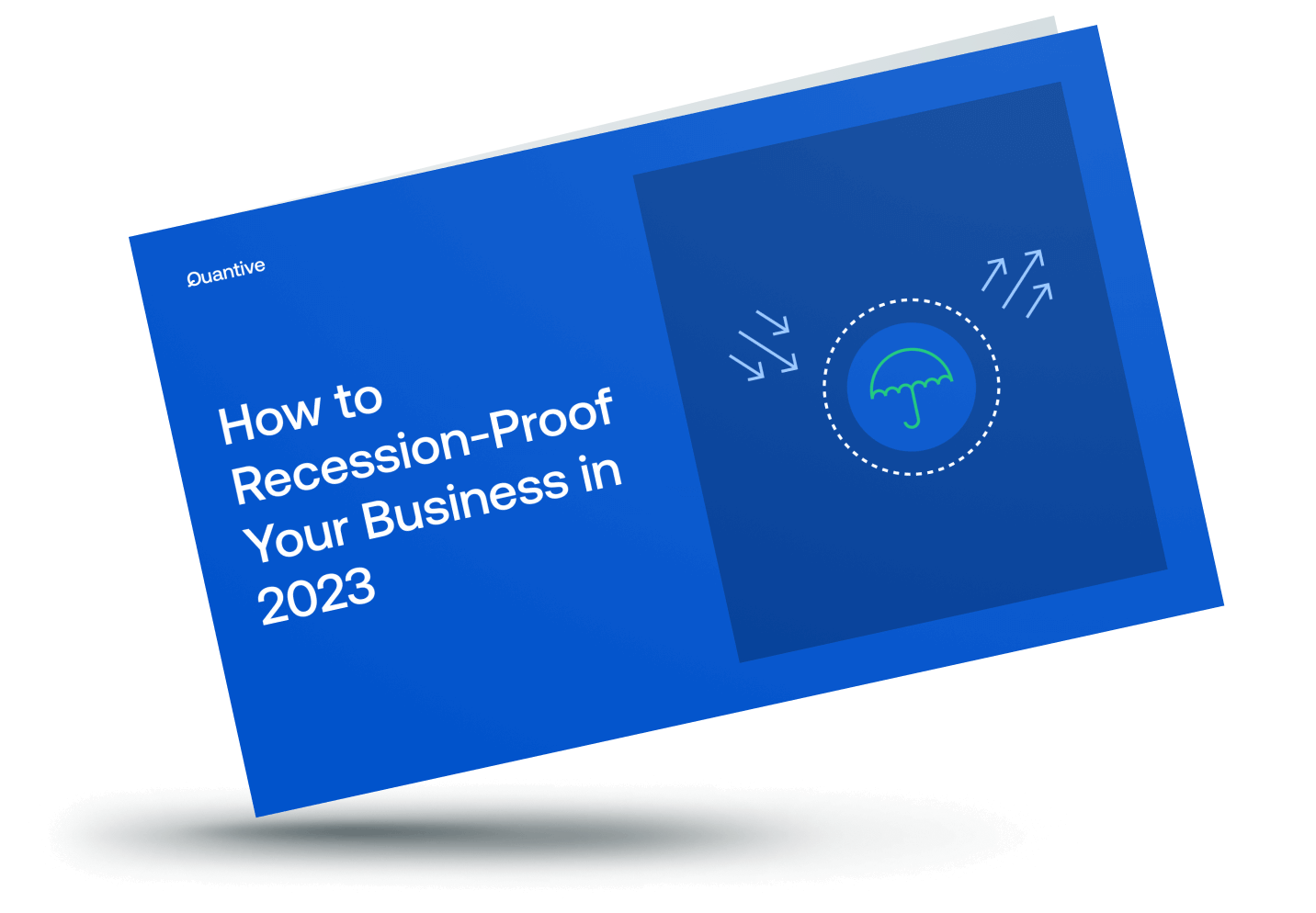 ---
Understand your business's starting point
In complex economic situations, it's always a good idea to conduct an initial health check of your business to ensure you know the state of affairs. This involves assessing key business components — including finances, market positioning, and strategic direction — to better understand the best way to start recession-proofing.
To assess your business's health, ask questions like:
How do we expect our customers to react during a recession?

How will competitors behave?

Will cash keep flowing into our business?

Are drastic cost cuts necessary? How can we go about making these?

Is it feasible to maintain heavy R&D investments? Why or why not?

How can we exploit new business opportunities?
Knowing your current strengths and shortcomings can help you create a personalized outline for recession-proofing your business, allowing you to uncover the most suitable strategies for your business's future.
An integrated approach to recession-proofing your business in 2023
Boosting business longevity requires careful reprioritization and resource deployment. To do this, your company needs to review fundamental business components and adjust them to suit the evolving market.
As you look to recession-proof your business, there are three areas to prioritize to ensure long-term business success while staying ahead of your competition:
Build a resilient organization to cushion against shocks

Fully embrace digital transformation

Streamline your organization for the future
Build a resilient organization to cushion against shocks
According to a Harvard Business Review study that followed 4,700 companies throughout three recessionary periods, companies that showed the strongest performance following a recession had three things in common:
They cut costs through operational efficiencies

They invested in R&D,

marketing

, and necessary business assets (plants, machinery, etc.)

They developed new markets
The success of this combined approach to recession-proofing likely lies in creating better employee morale, heightened productivity, lower investment costs, and innovation from investments.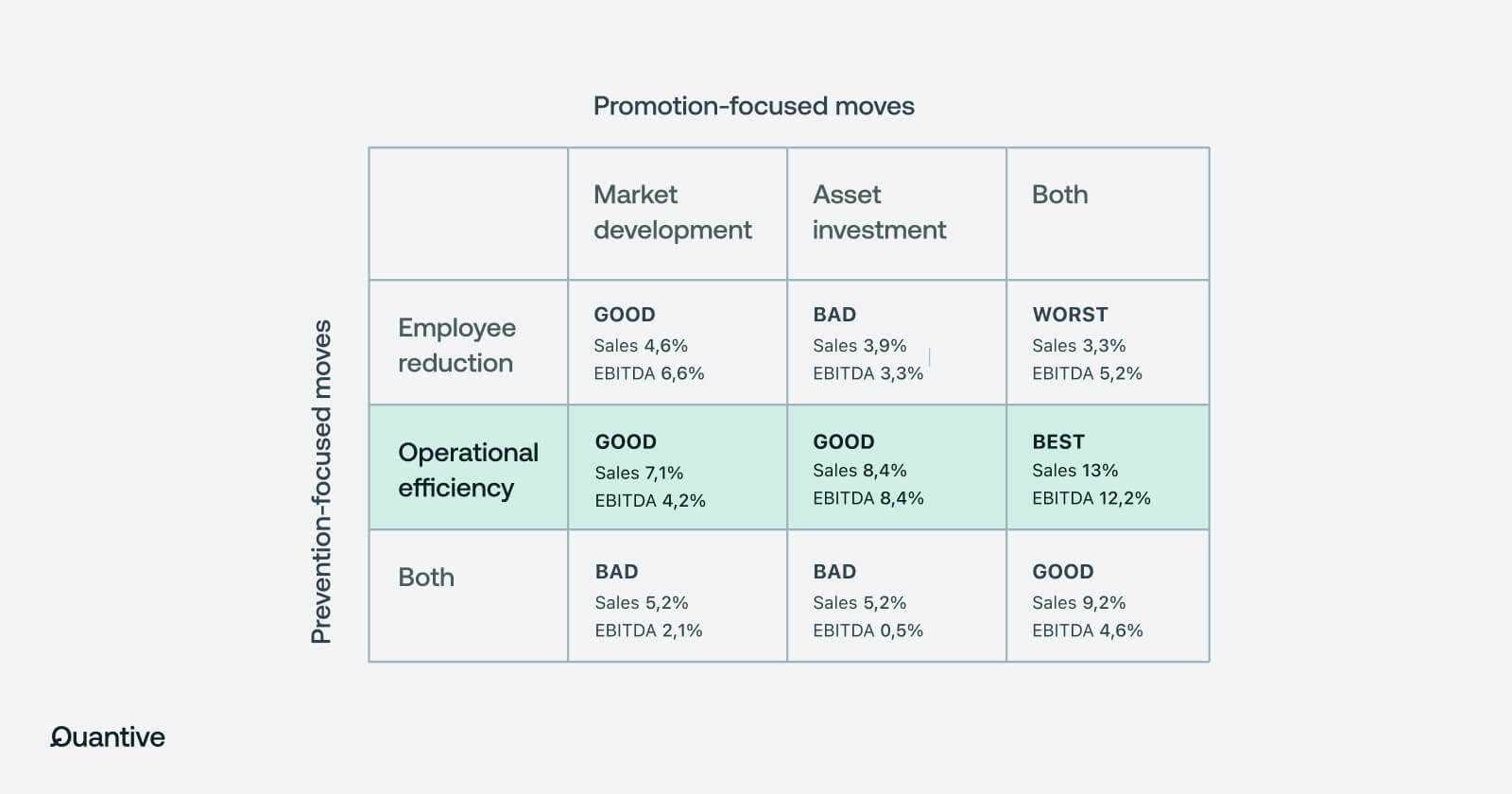 Striking the right combination of cost reductions, diversification, and future-forward investments can help you withstand downturns and thrive thereafter. But to get there, you need to build a resilient organization that can handle the ups and downs of today's volatile business environment. When discussing resilience, the three key business areas to focus on are:
Financial resilience

Cultural resilience

Strategic resilience
Financial resilience
Building financial resilience is exactly what it sounds like — it's the ability to withstand unexpected events that impact your finances. And during a recession, this is something every business must prioritize. To build financial resilience, companies should focus on customer retention and managing cash flow.
Not only is retaining existing customers more profitable than seeking new ones, but they also stay engaged at a fraction of the cost and are more likely to provide a much-needed cash cushion during a recession. With that in mind, every department — from customer success to marketing to product (and everything in between) — should aim to retain customers during an economic downturn. By focusing your entire company on customer retention, you'll start uncovering opportunities to engage one of your most valuable revenue streams.
When it comes to improving cash flow management during a recession, companies need to be selective with spending by eliminating unnecessary costs. That is, expenses that don't add business value, don't help you achieve goals, or don't align with your business strategy. While pinpointing bad costs may be challenging, a great starting point would be looking at subscriptions or recurring services. Separate the valuable tools and services from the unused, ineffective, or nice-to-haves. This can help you cut spending while giving you a chance to reassess cheaper or better alternatives.
Cultural resilience
Company culture is one of the hardest things to build and one of the first to feel the impact of a challenging business environment. Across the world, we're seeing layoffs impact companies of all shapes and sizes and the subsequent fallout on employee morale. And with 68% of employees actively disengaged at work, there's no time like the present to create cultural resilience.
Keeping employees' needs in mind when building your recession-proofing strategy can facilitate long-term business success — and should therefore be at the center of your strategy. This involves investing in your talent and culture while fostering long-term employee relationships that can power your company through turbulent moments. Not only will this help your business bridge the technology, skills, and knowledge gaps, but it can also diminish the impact of a talent-constrained recession by enabling internal mobility.
In addition to putting employees at the center of your strategy, another way to build cultural resilience is to empower your teams to be self-sufficient. In a recession, your company might be working with fewer resources (encompassing both people and technology), which means you need to be very strategic in order to reach your goals. Building teams that are capable and competent enough to take on strategic initiatives, apply feedback, and continuously adapt to internal and external dynamics will not only help your organization be more agile, but it will also cultivate cultural resilience to get your business through the downtimes.
Strategic resilience
There's no denying that recessions disrupt normal business processes. However, when it comes to strategic resilience, companies must evaluate how they can turn threats (like a recession) into opportunities. Undertaking these can help your business better position itself when the economy recovers, emerging with newfound or strengthened competitive advantages and capabilities.
Savvy leaders seeking long-term success can use the recession as a jumping board for future growth. While most companies prefer to concentrate their R&D during booms, businesses can benefit significantly from innovating during a recession. During economic downturns, fewer resources are typically used in production. This makes investing in R&D less disruptive to production than during periods of economic growth. Not only does this create less friction between priorities, but it can also help your business stay steadfast.
In addition, recessions also bring better deals, as companies are willing to sell products, assets, and equipment at much lower prices. Moreover, vendors and suppliers are more open to negotiating and offering discounts. Not only does this minimize costs while facilitating growth during recovery periods, but Deloitte notes that companies who continued to replace assets during a recession grew significantly faster than those with lower reinvestment rates.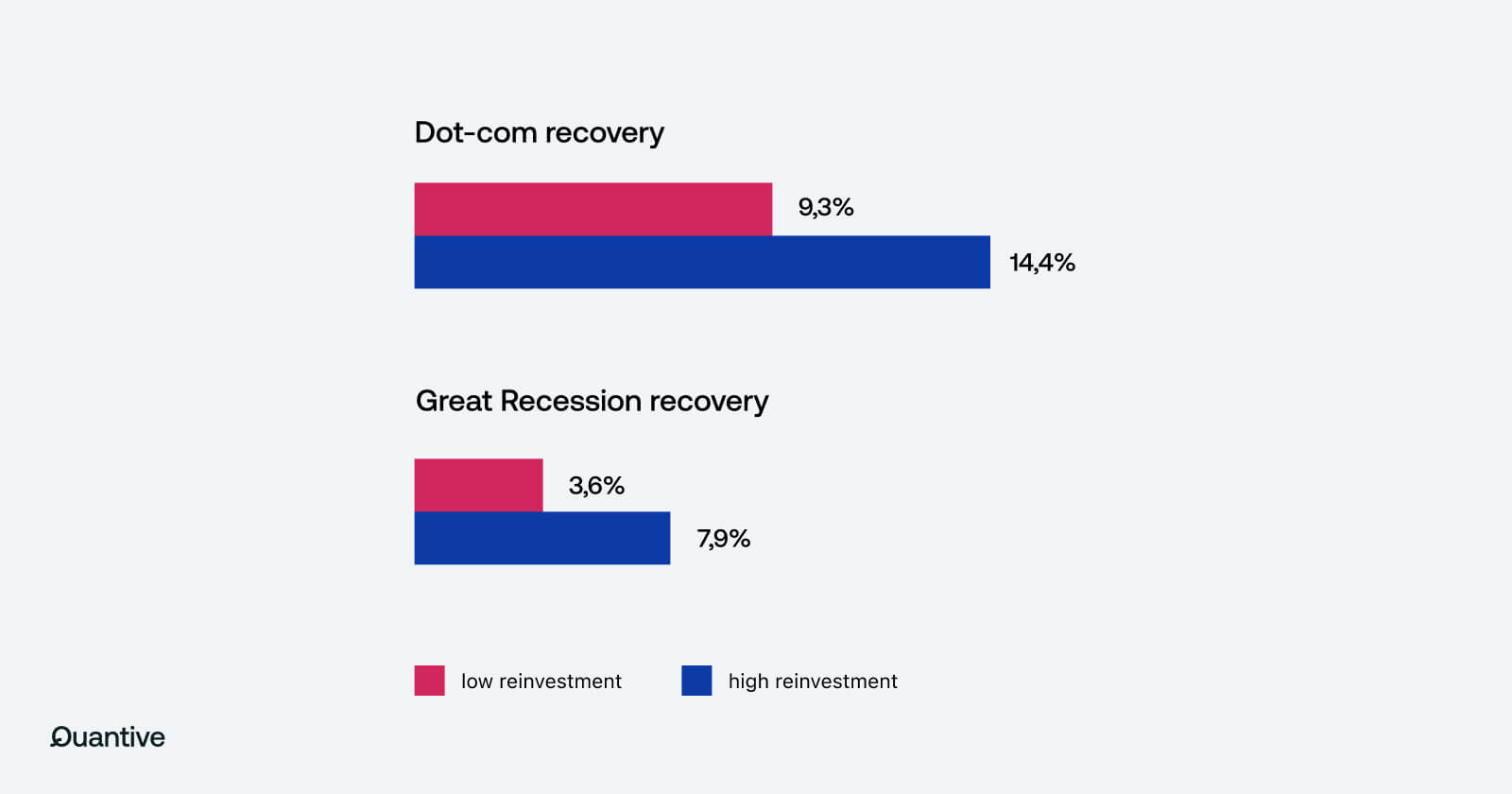 Turning your focus to resilience early in a recession can set your business up to be more agile in the coming months. This can help you adapt your business to market changes and overcome hurdles on a rolling basis.
The key to a strong recession business strategy is to monitor the economic climate and pivot at just the right time without losing momentum.

- Buckley Barlow
Fully embrace digital transformation
An essential part of recession-proofing your business is looking for ways to enhance — and hopefully improve — the way you operate. Enter digital transformation. While most businesses got a taste of digital transformation during the pandemic, now is the time to fully embrace it to survive and thrive in the future of work. When looking to reconfigure your business for digital transformation, start by:
Using data to your advantage

Upgrading your tech stack

Empowering employees for your digital future

Upleveling your operating model
The hard truth is you can't solve 21st century problems using 20th century thinking. And you cannot overlay digital transformation on top of traditional ways of doing business.
Use data to your advantage
When it comes to digital transformation, data can make or break your business — especially during a recession. In uncertain times, utilizing the correct data effectively can help you identify opportunities, drive better decision-making, and reduce wasteful activities.
When using data to recession-proof your business, you first need to understand the bigger picture. Gaining visibility into how well different departments are doing — and how effective their cross-functional interdependencies are — can help you address what needs changing. This is especially important as robust decision-making is vital in today's dynamic business environment.
One way to get a complete view of your business is by using technology that combines data from different sources. This acts as a single source of truth, giving you a quick (but vast) understanding of what's happening across your organization. Tools like business observability software can give you a holistic view of your business by allowing you to:
Automatically sync data from various sources

Monitor the progress of your metrics

Track team activity

Automatically sync and update data from multiple sources

Identify anomalies, deviations, and root causes

Foresee your business's trajectory using AI-based forecasts
By enabling you to optimize processes and tackle issues before they snowball, business observability software can help you forestall competition, which is paramount in an economic downturn.
---
See how business observability software can make your business recession-proof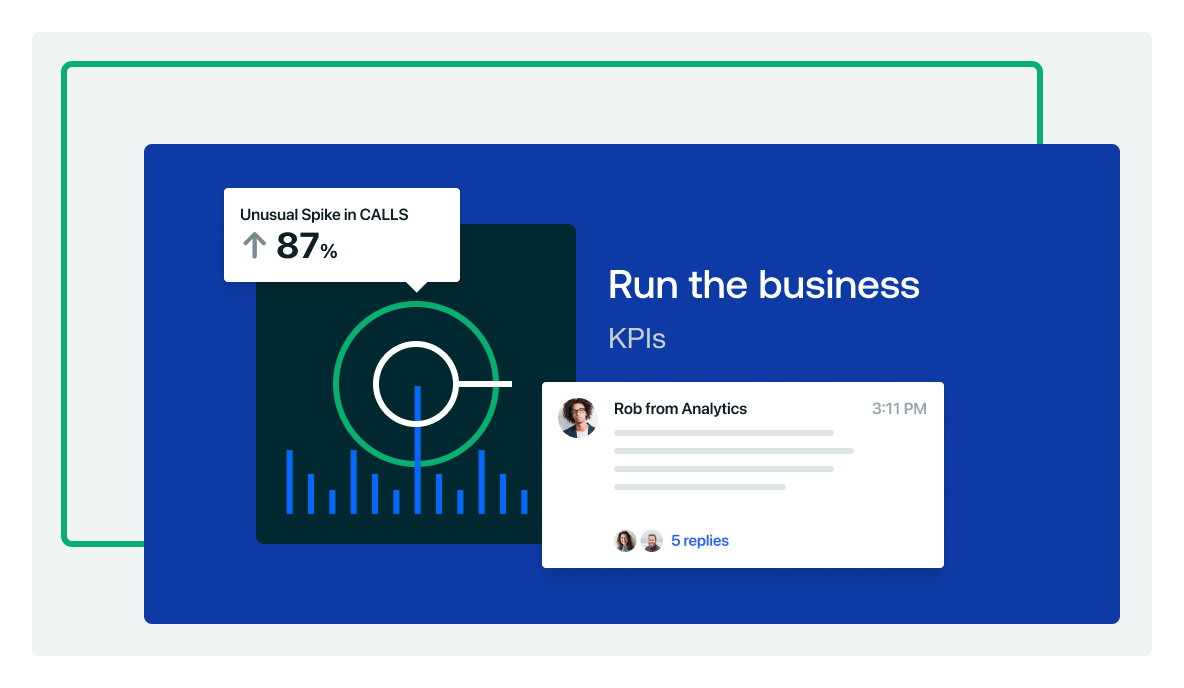 ---
Upgrade your tech stack
A fundamental part of spearheading digital transformation is keeping your tech stack attuned to business and market demands. This entails an audit (and possible overhaul) of your existing tech stack to ensure it reflects your needs, resources, and priorities.
To assess the viability of your current tech stack — and ensure new tools are helpful to recession-proofing your business — you should:
Focus on your goals to see whether your tech tools serve or detract from them

Send out employee surveys to better understand the tools they use, the pain points they're experiencing, and what tools they might need for additional support

Take a buyer-centric approach where you consider whether existing tools and systems support and contribute to your buyers' journey

Assess how well-integrated your tech stack is, as this can help avoid miscommunications, duplicate work, and inefficient workflows

Research alternatives to understand whether they'd be more suitable in terms of cost, support, scalability, usability, and integrations
These appraisals can help you evaluate your current tech stack, scrap unnecessary tools, and invest in ones that align with the current environment.
When looking to expand your tech stack, it's essential not to take on too much too fast — especially during a recession when you might have fewer people to maintain more tools. Instead, take the time to evaluate what areas of your business could benefit from better technology resources and prioritize from there.
Empower employees for your digital future
When businesses had to pivot quickly during the pandemic, we saw the value of agility in a constantly evolving market environment. During this time, digital transformation played a pivotal role and became the powerhouse of business endurance. The constant between all of this — your employees.
Even during a recession, employees are still the backbone of business perseverance. With that being said, if your employees can't sustain your commitment to digital transformation, your efforts will be unsuccessful. Therefore, upskilling your workforce is necessary when adapting your business to a fast-paced digital future.
As digital transformation tends to come with new technological adoptions, employees must be trained and upskilled to use these. Not only does this facilitate operational efficiency, better communication, and adaptability, but it can also save costs in the long term.
Since untrained staff can be downright wasteful — with costly mistakes resulting in debilitating inefficiencies — digital literacy across your workforce is a must-have for bridging the widening technology knowledge gap. Moreover, upskilling employees can minimize hiring expenses and costly turnover rates. Internal hiring becomes more viable as employees are increasingly digitally savvy, resulting in diminished hiring, onboarding, and training costs.
Uplevel your operating model
Over the past few years, the way we work has been disrupted. And now, amidst the uncertainty of a global recession, it's nearly impossible to plan for the future. While that might be the case, you can use this period to evaluate your business's operating model to take advantage of digital transformation. Not only will this help recession-proof your business, but it also ensures your operations are in line with modern market demands.
To thrive during (and after) a recession, your business needs a better way of bringing your strategy, teams, and data together, speeding up decision-making, optimizing operations, and driving better business outcomes. This is where a Modern Operating Model comes in. Based on a few core beliefs, the Modern Operating Model ensures:
Team priorities connect to top-line objectives

Decision-making is decentralized

Organizations are transparent and trustworthy

Business is outcome-focused

Teams are fast and agile

Feedback loops are compressed
To effectively execute strategic objectives in a constantly changing world (like a global recession), you can use the Modern Operating Model to leverage data and insights for better and faster decision-making.
---
Transform your operating model using the Modern Operating Model's cutting-edge approach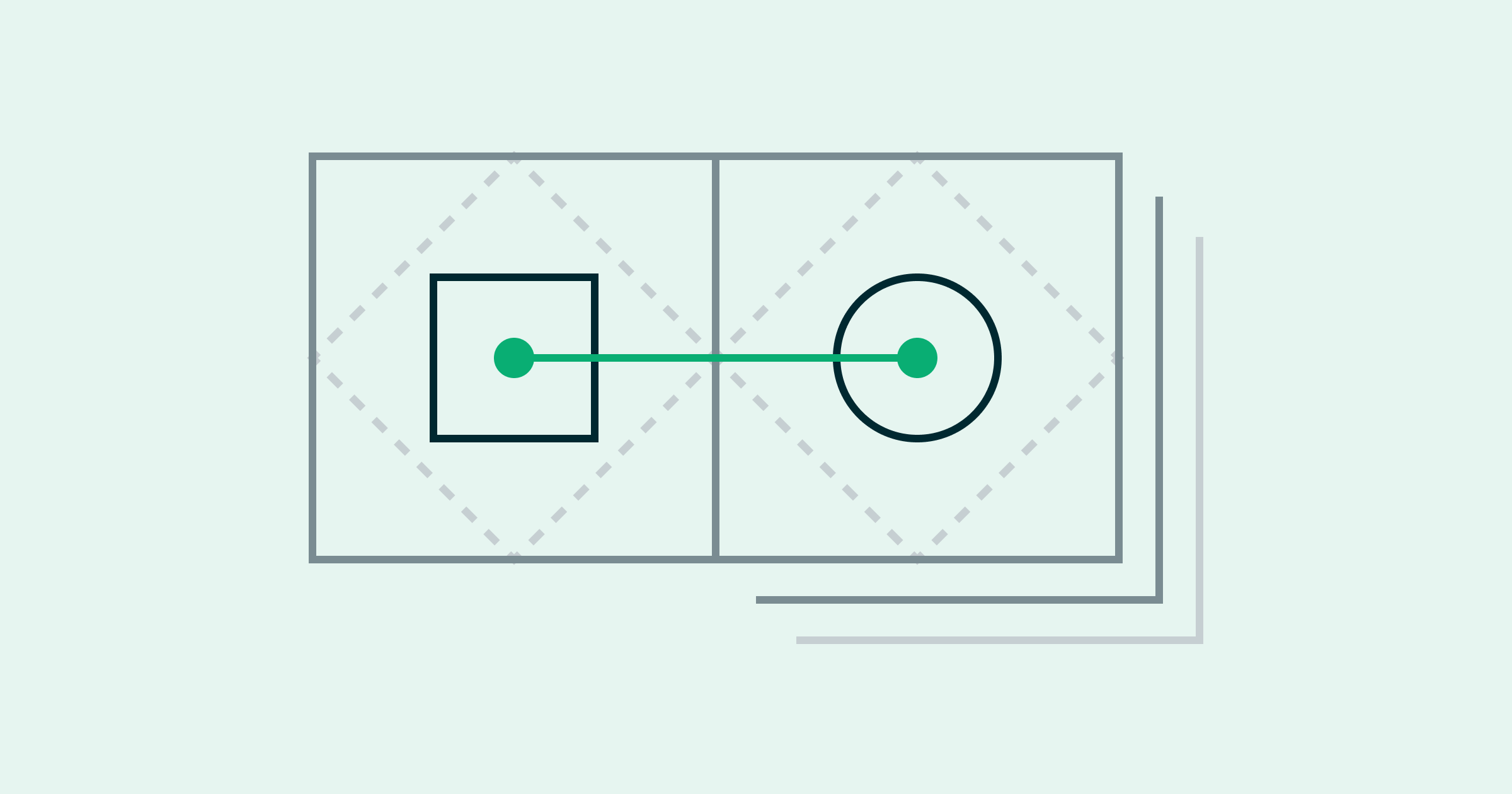 ---
Streamline your organization for the future
Streamlining your business helps you stay agile enough to respond to market changes while leveraging your competencies to sustain competitive advantages throughout a recession. To streamline your organization, work on:
Leveraging your core competencies

Reaching related markets at a lower cost

Breaking down organizational silos

Cultivating agility with adaptive strategy execution
Leverage your core competencies
As your core competencies are often a competitive advantage, now is the time to lean on them to help recession-proof your business. Having fully optimized core competencies that are automated, developed, and aligned with business needs can help you achieve business continuity.
In fact, a recent study notes that organizations with fully developed competency management programs are more likely to increase revenue (55%), customer retention (45%), and employee engagement (37%) over the last year. To make the most of your core competencies, you need to channel resources toward them by setting a competency-based strategy. By bringing core competencies front and center, your company can ensure tasks, activities, and goals serve the critical focus areas of the business.
For best results, ensure top-level competencies are supported and complemented by lower-level ones. This should be reflected by vertically and horizontally linked goals across your organization. A structure like this can be supported by a flexible goal-setting framework, such as objectives and key results (OKRs). OKRs can create a goal tree where individual and team goals nest into company-level goals, allowing you to interconnect goals across every level of the organization.
Reach related markets at a lower cost
Leaning into your core competencies doesn't confine you to the markets you currently operate in. Core competencies, by definition, must provide access to a wide variety of markets. By using these to expand, you can benefit from economies of scope — the cost-effectiveness of producing related items together instead of individually — and gain a foothold in new markets. Both can help you recession-proof your business by minimizing cost and risk while expanding your customer base.
By using your core competencies as a jumping board to diversify into related markets or industries, your business leverages existing knowledge, skills, and networks to capture market share and expand operations. Not only does this lower overall cost while broadening your reach, but it also enables your organization to achieve the most using fewer resources.
Expanding into new markets is also easier during an economic downturn. As companies tend to decrease marketing expenditure during this time, lower barriers to entry allow you to take on new markets at a fraction of the cost.
Break down organizational silos
Beyond encouraging the efficient use of resources, eliminating silos improves collaboration, innovation, and productivity. It also enhances alignment throughout your organization, powering it through a recession. For a quick understanding of your current organizational alignment capabilities, consider the following questions:
Are we striving toward joint goals?

Are we taking the same path toward these goals?

What resources do we need to get there?

How are we allocating efforts and resources toward what matters?

How are we measuring performance against what's important?
These can give you a quick overview of where misunderstandings or friction occur, allowing you to pinpoint areas needing better interconnectivity.
One way to break down silos and connect your organization is by implementing OKRs. As OKRs enable you to set collaborative and transparent goals that branch down and engage your entire organization, they facilitate cohesive efforts that flatten hierarchical structures and improve alignment. Focusing on the right goals will not only diminish silos but will better enable you to maintain the business through the economic downturn.
Cultivate agility using adaptive strategy execution
Building agility into your business can help you stay reactive, with built-in adaptability paving the way for long-term business viability. As agility enables adaptive strategy execution, you can anticipate, make sense of, and respond to disruptive market environments quickly and effectively, thus recession-proofing your business.
To cultivate business agility, work on:
Establishing agility into the mindset and culture of your business

Fixing stunted lines of communication to improve cross-functional dialogue

Reducing bureaucracies to facilitate quick resource deployment

Ensuring your technologies drive agility

Assessing current

agile practices

, considering their feasibility in terms of maintenance and sustainability
Ultimately, these capabilities enable adaptive strategy execution, allowing your company to mitigate losses and take advantage of the opportunities brought on by an economic downturn.
---
Read more on recession-proofing your organization with adaptive strategy execution
---
Ready to recession-proof your business?
An all-encompassing, structural approach to recession-proofing your business goes beyond surface-level solutions that merely keep your business afloat. Instead, it involves solidifying operational resilience in your company, helping your business persevere through short-term slumps while paving the way for long-term business success. As discussed, you can recession-proof your company by:
Building a resilient organization that can handle the ups and downs of today's volatile market environment by focusing on financial, cultural, and strategic resilience
Fully embracing digital transformation by upgrading your tech stack, using data to your advantage, empowering employees for your digital future, and upleveling your operating model
Streamlining your organization by breaking down silos, leveraging core competencies, reaching related markets at a lower cost, and cultivating agility with adaptive strategy execution
Grabbing a recession by its horns and taking a well-rounded, proactive approach to adapting your business can help build durability. Not only will this ensure you can weather the effects of a recession, but it also cultivates the flexibility needed to thrive through the ebbs and flows of ever-changing market environments. As such, allowing you to future-proof your organization and stay one step ahead of competitors.
---
Quantive is your bridge between strategy and execution. Founded on the objectives and key results (OKR) methodology, our Strategy Execution Platform is where businesses plan successful strategy, focus and align teams to it, and stay on the leading edge of progress.
As your company looks to achieve the best possible results, you need a modern approach to run your business and change your business. The Modern Operating Model brings strategy, teams, and data together to help make decisions faster, optimize operations, and drive better business outcomes.
Whether you're a large enterprise facing competitive disruption or a small business leading the innovative charge, Quantive helps get you where you want to go.
Ready to achieve the best possible? Start using Quantive for free.