If you want your business, team, or mission to succeed, you must execute your strategy effectively. But this is easier said than done, with only 2% of leaders reporting they feel confident in achieving their strategic objectives. And there's no one-size-fits-all solution...
But now, there's a new community from Quantive packed with the resources, knowledge, and best practices to help your organization achieve its strategic potential.
Introducing the Dreams with Deadlines Community
Quantive has evolved its Dreams with Deadlines podcast into the one and only strategy meets execution community.
We're excited to bring together a global network of ambitious business leaders and innovators, centered around the use of OKRs and agile business practices, which we believe are the key to building high-performing cultures and achieving success in any dream we pursue.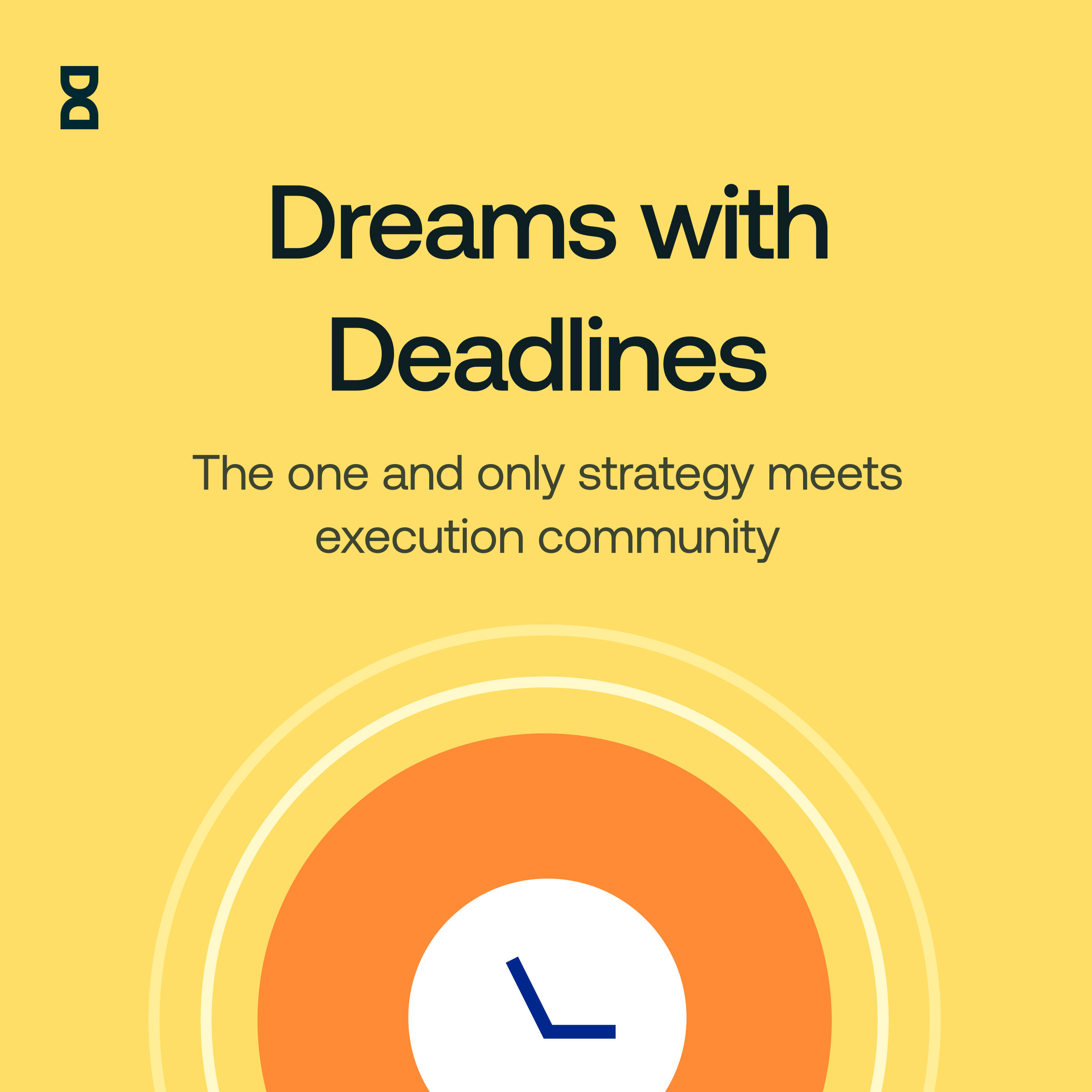 Together, the Dreams with Deadlines community aims to share knowledge, frameworks, and resources to help you become a better strategic leader, agile operator, and change maker in the world.
To help empower members to learn, network, and grow, the community will offer free access to:
A private Slack group where members can ask questions, share ideas, and get feedback from peers
Workshops and coaching groups led by strategy leaders and OKR experts
Curated 1:1 connections, through our AI-powered member matching program
Who is the community for?
Dreams with Deadlines welcomes leaders with ambitious goals, who want to unlock the full potential of their organizations, their teams, and themselves.
The community is completely free to join and is a place for experienced leaders who are committed to learning, sharing, and connecting with their peers. We want each member to feel more confident about closing the gap between strategy and execution to better achieve their goals.
How do I join the Dreams with Deadlines community?
Whether you're new to OKRs or a seasoned pro, the Dreams with Deadlines community is where you'll find the knowledge, connections, and resources you need to achieve your goals with greater confidence, efficiency and impact.
Check out the Dreams with Deadlines website to learn more about the community and apply to join to take your OKRs and strategy execution to the next level.
---
Quantive is your bridge between strategy and execution. Founded on the objectives and key results (OKR) methodology, our Strategy Execution Platform is where businesses plan successful strategy, focus and align teams to it, and stay on the leading edge of progress.
As your company looks to achieve the best possible results, you need a modern approach to run your business and change your business. The Modern Operating Model brings strategy, teams, and data together to help make decisions faster, optimize operations, and drive better business outcomes.
Whether you're a large enterprise facing competitive disruption or a small business leading the innovative charge, Quantive helps get you where you want to go.
Ready to achieve the best possible? Start using Quantive for free.