Corporate financial reporting is a well-established business practice. Commonly agreed upon frameworks, service providers, and widespread know-how mean financial reporting isn't an issue for most companies. However, when it comes to reporting on environment, social, and governance (ESG) issues, the situation is the opposite.
Yes, many ESG frameworks exist, which have colloquially become known as "The Alphabet Soup" — a reference to the various acronyms used such as GRI, SASB, and CDSB (more on these later). The problem is there's still a lot of discrepancies in ESG reporting. In addition to not having one set of guidelines to follow, the legal status of ESG reporting differs depending on industry, company type, and location – complicating the matter further.
In this article, we're going to clear up the fog of ESG reporting by:
Helping you understand ESG frameworks and ESG reporting
Showing you why ESG reporting is becoming essential
Providing a foundation on how to go about ESG reporting
What is an ESG framework?
ESG frameworks are sets of guidelines that help companies manage their ESG commitments. They also provide direction on how to create ESG reports, which are used to document and disclose ESG progress. ESG frameworks are created by various organizations including NGOs, stock exchanges, think tanks, and governments. These groups represent the developers and regulators of the ESG ecosystem and act as an intermediator between companies and other ESG stakeholders such as investors and the public.
With greater urgency to ensure ESG commitments are met, these ESG frameworks have been created to standardize the process of ESG reporting. Although there isn't one standard as of now, efforts are being made to consolidate the frameworks for better consistency, as is the case with financial reporting.
ESG frameworks offer insight into:
What ESG metrics you should track and report. For instance, environmental metrics such as air pollution or social metrics such as employee engagement.
How to structure your ESG report in terms of content.
How to think about your ESG strategy, processes, tools, and people you will need for the fulfillment of ESG commitments.
Another concept related to ESG frameworks is ESG standards. Whereas ESG frameworks represent a set of guidelines and best practices to follow, ESG standards are the benchmark of ESG commitment companies must achieve. In some industries where there are greater consequences for ESG failure – like oil and gas for instance – ESG standards may be stricter and have regulatory bodies enforcing the standards.
What is ESG reporting?
ESG frameworks are used by companies for the purpose of ESG reporting, which is the process of companies tracking, documenting, and publicly disclosing their progress regarding ESG goals. The process is like corporate financial reporting, but instead of disclosing accounting metrics, ESG metrics and qualitative ESG information are provided. This includes:
Environmental metrics such as waste produced and resource usage
Social metrics such as gender pay ratio and community investment
Governance metrics such as incidents of fraud and executive compensation
---
Check out our ESG metrics article for a more comprehensive overview.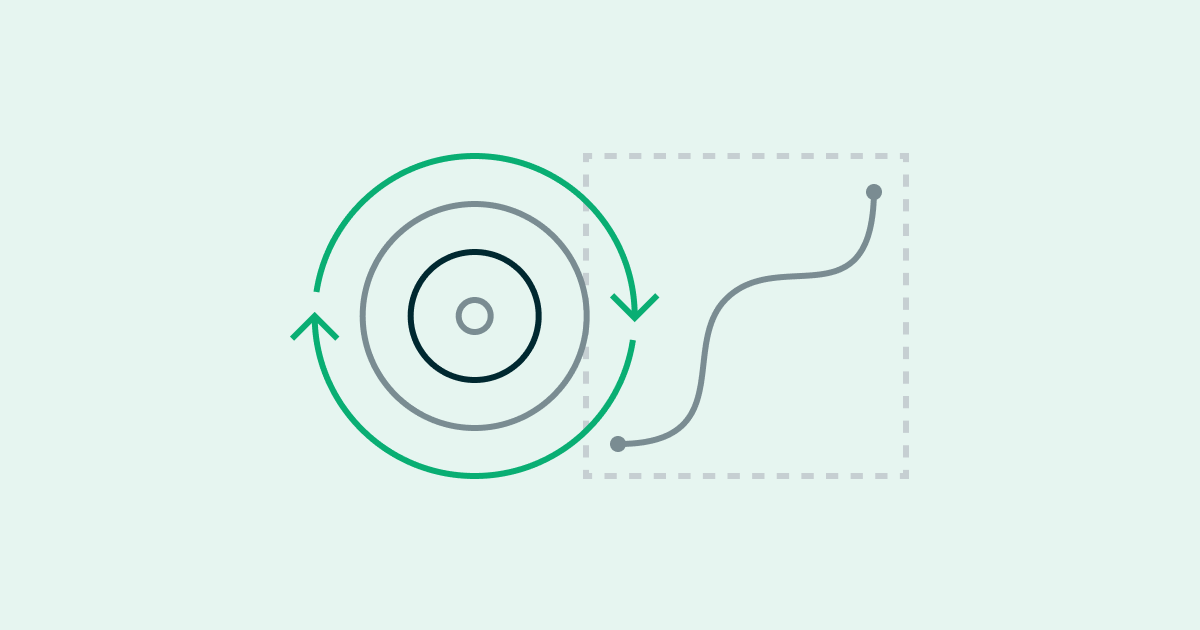 ---
Why is ESG reporting important?
Although meeting ESG commitments is not currently a legal obligation across the board, there are indicators that we are trending in this direction. The Paris Climate Agreement for instance signifies that governments around the world are cementing their commitment to ESG. This will undoubtedly put pressure on the business world to fall in line and provide transparency into ESG initiatives.
The important idea here is transparency. It's not enough for companies to simply say they are committed to ESG. They must also provide accurate ESG reports for all stakeholders to access. In the future, ESG reporting may be a mandatory legal requirement, as is the case with financial reporting. With that in mind, it's worth setting up an established cadence for ESG reporting before this happens so you are ready to comply with any legal changes in the future.
In addition to getting ahead of legal compliance, there are other important reasons for ESG reporting:
Better brand storytelling
ESG reports aren't only disclosure documents, they can also act as a mechanism to enhance public relations. You can demonstrate to ESG stakeholders the progress you have made and showcase how your company culture, processes and people align with your ESG promises. This can impact business priorities such as being seen as more attractive to future employees.
Increased accountability
Creating ESG reports improves accountability both inside and outside your organization. Internally, when you make the effort to document your ESG progress, everybody who plays a part in meeting ESG goals will be publicly accountable. This may lead to better ESG compliance. Externally, knowing that you must report your progress to the ESG ecosystem provides pressure to ensure promises are kept.
Greater trust
Through transparent ESG reporting, you have an opportunity to build trust among stakeholders such as employees and investors.
Better access to capital
With the use of ESG metrics and providing proof of ESG commitments, you will unlock more opportunities to raise capital. More investors are using ESG to screen investment opportunities, with some funds completely dismissing companies that aren't ESG friendly.
How to choose the right ESG framework?
As mentioned, ESG frameworks are used to inform ESG reporting by providing guidance on how and what to report.
But how do you choose the right ESG framework for your company? There are a few things you should consider:
Some ESG frameworks are better suited to certain industries and company types. A software company would have different ESG priorities compared to a fashion brand with an offshore supply chain.
Where possible, see if you can find companies like yours and see how they do their ESG reporting.
Consider your current regulatory environment in relation to your jurisdiction and industry.
Evaluate whether it makes sense to use multiple ESG frameworks together to create a more accurate ESG report. As a rule, the more ESG metrics you can report on the better your ESG report will be.
List of ESG frameworks
ESG frameworks typically cater to three stakeholders — investors, government, and management.
Investors
These ESG frameworks focus on helping investors make wise decisions regarding a potential investment's sustainability-related performance. In addition, they tend to focus on financially visible activities.
Government
These ESG reporting frameworks, such as the United Nation's Sustainable Development Goals (UN-SDGs), serve as guidelines for national and regional governments, helping them provide sustainability-related services and support to their constituents.
Management
These ESG frameworks target operating organizations, translating sustainability-related concepts into tangible activities and outcomes that organizations can influence or impact.
Types of frameworks
It is important to note that each of these types of ESG reporting frameworks is designed to meet the needs of their intended audience. This makes them weak at addressing the needs of the other groups. For example, governments cannot effectively use the ESG reporting frameworks designed for investors. Likewise, the ESG frameworks designed for governments cannot be used by management.
Each of the frameworks mentioned below falls into one of the stakeholder categories: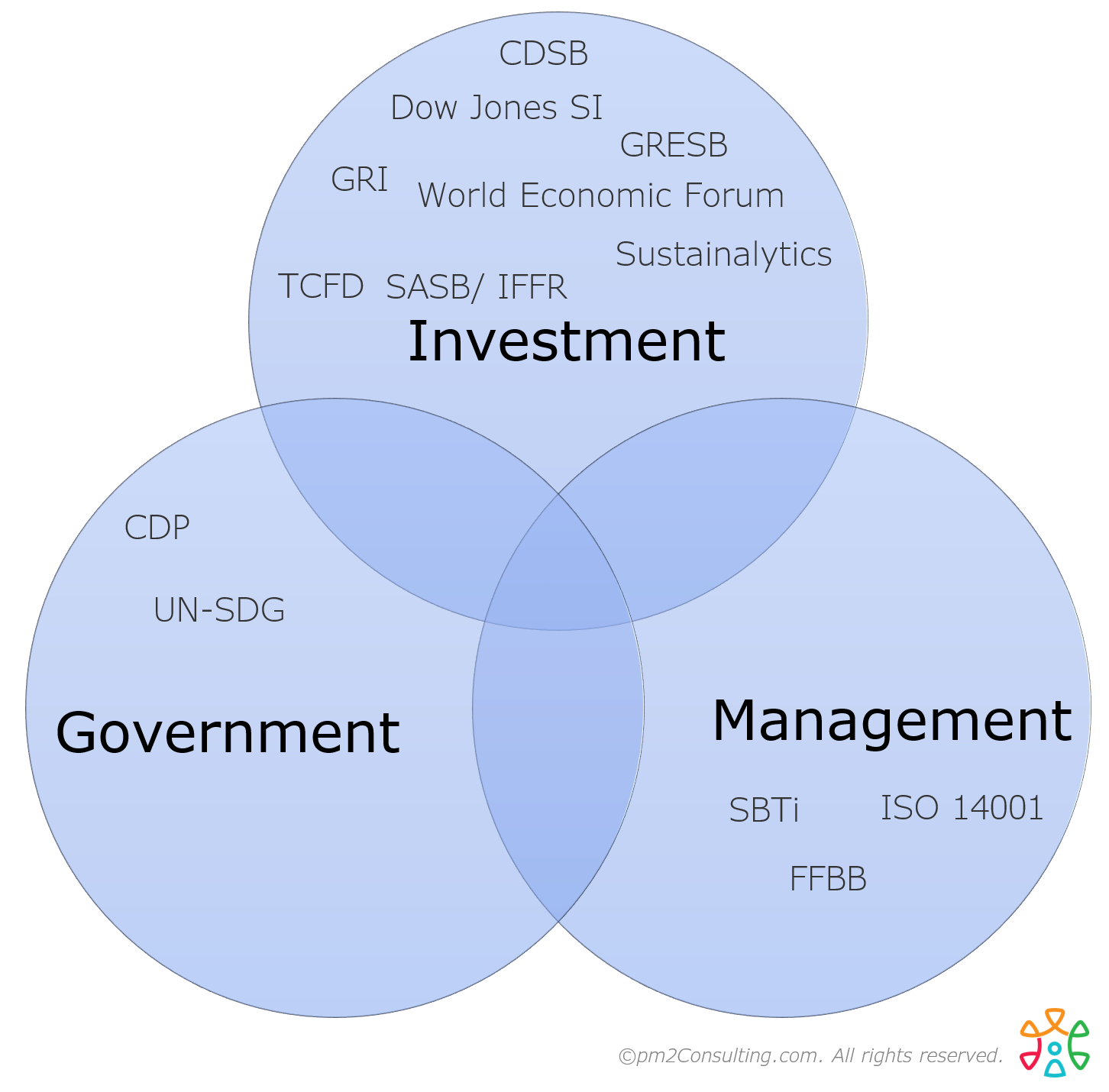 You can see that most of the ESG/sustainability frameworks target investor needs. Moreover, the most well-known and popular framework (i.e., UN-SDGs) targets governments. Finally, there are three frameworks to choose from for those operating in businesses and organizations — two of which are certification-related, not operational.
Our research indicates that 80% of reporting organizations use one of the ESG frameworks listed below:
CDSB
The Climate Disclosure Standards Board (CDSB) is a non-profit organization that focuses on water, forests, and climate change. It aims to provide material information to investors and financial markets. It achieves this by integrating climate change-related information into mainstream financial reporting and enabling reporting on environmental emissions to provide structure for data collection.
CDP
The largest single repository of company-wide greenhouse gas (GHG) emissions; used as source information for most ESG-related surveys and analyst reports.
DJSI
The Dow Jones Sustainability Indices (DJSI) are a family of best-in-class benchmarks for investors who recognize that sustainability is critical to generating long-term shareholder value and wish to reflect their sustainability convictions in their investment portfolios. The family was launched in 1999 as the first global sustainability benchmark to track the stock performance of the world's leading companies in terms of ESG criteria.
FFBB
Systems science tells us how our economy must be transformed if we are to meet everyone's needs and live harmoniously with nature. The FFBB translates this science into principles, goals, indicators, and guides to help businesses play their part in getting us there.
GRESB
GRESB provides validated ESG performance data and peer benchmarks for investors and managers to improve business intelligence, industry engagement, and decision-making
GRI
The Global Reporting Initiative is the most widely used reporting framework, with 73% of the world's largest 250 companies using GRI.
ISO
The International Organization for Standards (ISO) provides companies with global standards across hundreds of sectors covering all things ESG.
ISSB
International Sustainability Board (ISSB) provides a global baseline for sustainability standards catered to investors and capital market participants.
SASB
International Sustainability Board (ISSB) provides a global baseline for sustainability standards catered to investors and capital market participants.
SBTi
The Science Based Targets initiative (SBTi) mobilizes companies to set science-based targets and boost their competitive advantage when transitioning to a low-carbon economy.
UN SDGs
The UN Sustainable Development Goals (UN SDGs) is a business strategy framework consisting of 17 goals for 2030. It addresses global challenges such as poverty, inequality, climate, economic prosperity, anti-corruption, labor, and human rights.
TCFD
The Task Force on Climate-related Financial Disclosures are recommendations for more effective climate-related disclosures. They promote more informed investment, credit, and insurance underwriting decisions. As a result, they enable stakeholders to understand the concentrations of carbon-related assets in the financial sector while providing insight into the financial system's exposure to climate-related ris
Sustainalytics
Sustainalytics measures a company's exposure to industry-specific ESG-related risks and generates a rating.
WEF
Seeks to improve how companies measure and demonstrate their contribution to a prosperous society and a sustainable relationship with our planet.
How to do ESG reporting?
ESG reporting is an emerging discipline. As a result, there isn't yet a simple playbook you can follow, and you will likely need help to get started with ESG reporting. As an overview, however, there are a few things you will need to keep in mind when creating ESG reports.
Have an ESG strategy and tangible game plan to achieve ESG goals. This will give you strong metrics to report on.
Ensure ESG commitment (and reporting) is done properly by designating someone in your organization to take charge of it.
Determine which framework is best for your company. Do this by considering factors such as geography, industry, company type, and the stakeholders you are trying to inform.
Decide on the content of your ESG report including quantitative and qualitative information.
Leverage tools, systems, and processes to collect the relevant data which will inform your ESG metrics.
There are also certain qualities that an ESG report should have:
Clarity and concision to ensure stakeholders can quickly navigate and digest important information
Relevancy to your target audience
Thoroughness in terms of raw data and qualitative analysis including what you've done and steps you will take to improve ESG metrics
Reliable and verifiable data — if the need for an audit arises or if there are questions around certain metrics, you need to be able to back it up
Honesty through showing your success, what you need to work on, and how you're going to improve
As a final note, your approach to ESG reporting should be that of trust building, as opposed to compliance. It's best to view ESG reporting as an opportunity to improve public relations and accelerate progress toward ESG goals through internal and external accountability.
ESG goals and ESG reporting
Naturally, creating worthwhile ESG reports means your organization needs to be actively working toward ESG goals. But with multiple business priorities to contend with, creating an ESG strategy and executing it successfully can easily fall to the bottom of the list.
OKRs act to bridge the strategy-execution gap so you can achieve ESG goals while also accelerating your trajectory toward other business goals.
---
Quantive is your bridge between strategy and execution. Founded on the objectives and key results (OKR) methodology, our Strategy Execution Platform is where businesses plan successful strategy, focus and align teams to it, and stay on the leading edge of progress.
As your company looks to achieve the best possible results, you need a modern approach to run your business and change your business. The Modern Operating Model brings strategy, teams, and data together to help make decisions faster, optimize operations, and drive better business outcomes.
Whether you're a large enterprise facing competitive disruption or a small business leading the innovative charge, Quantive helps gets you where you want to go.
Ready to achieve the best possible? Start using Quantive for free.
---
This article was written in collaboration with PM2 Consulting's executive partner, Brett Knowles.